Key Takeaways:
On Monday, the army announced that the wreckage of a plane carrying 22 passengers that went missing in Nepal's Himalayas had been located scattered on a mountaintop.
The search for the jet was put on hold on Sunday night due to bad weather and darkness, but it was resumed on Monday.
The army said Monday that the wreckage of a plane carrying 22 passengers that vanished in Nepal's Himalayas was discovered dispersed on a mountaintop. There was no news on whether or whether there were any survivors.
The Tara Air turboprop Twin Otter was also on a 20-minute flight when it lost touch with the airport tower just before landing while flying through deep river gorges and mountaintops.
According to the army, the plane crashed in Sanosware, Mustang district, near the mountain town of Jomsom, where it was headed after taking off from Pokhara, 200 kilometers west of Kathmandu.
Also read: With a vote of confidence, NRA members overwhelmingly support leader LaPierre
The army shared an overhead shot of the accident site on Twitter, which showed plane fragments dispersed across the mountainside.
There were no other specifics provided.
Due to terrible weather and darkness on Sunday night, the search for the jet was put on hold, but it was restarted on Monday.
The 43-year-old aircraft took off at Pokhara at 9:55 a.m. (04:10 GMT) and broadcast the last signal at 10:07 a.m. (04:22 GMT) at an altitude of 3,900 meters, as per tracking data from flightradar24.com.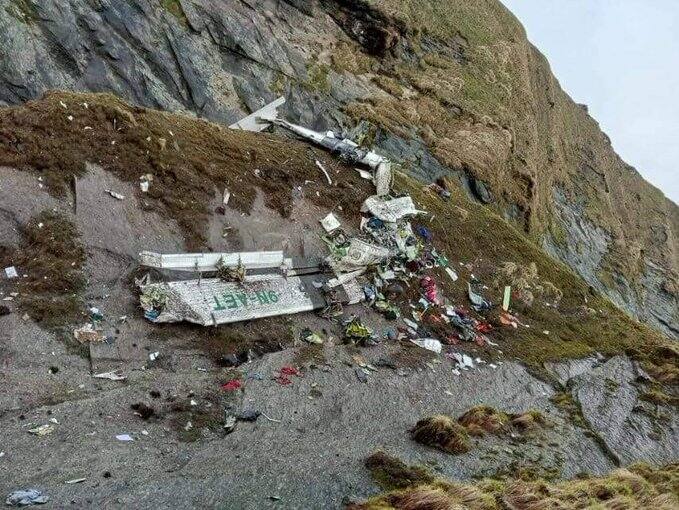 On the plane were four Indians as well as two Germans. Nepalese nationals made up the 3 crew members and the other passengers.
Foreign hikers who traverse the mountain paths, as well as Indian and Nepalese pilgrims who visit the famed Muktinath shrine, flock to the plane's destination.
According to aviationnepal.com, the Twin Otter, a tough plane originally designed by Canadian aircraft company De Havilland, has been in service in Nepal for approximately 50 years and has been involved in about 21 accidents.
Thanks to its top-mounted wing and fixed landing gear, the plane is regarded for its durability and ability to take off and land on short runways.
The planes were originally produced until the 1980s when they were discontinued. In 2010, Viking Air, a Canadian manufacturer, brought the aircraft back into production.
Source: CTV news