Key Takeaways:
176,000 people in Ottawa are without power, according to Hydro Ottawa, and more than 200 hydro poles have been broken.
A violent storm with gusts of 120 km/h passed across the national capital region at 4 p.m., leaving a trail of damaged homes, toppled trees, and broken hydro poles and wires.
This morning, tens of thousands of residents in Ottawa, eastern Ontario, and western Quebec are without power, and Ottawa police are urging vehicles to avoid the city while the cleaning from Saturday's catastrophic storm continues.
Officials say it would take two to three days for power to be restored and all roads in Ottawa to reopen.
According to Hydro Ottawa, 176,000 customers in Ottawa are without electricity, and more than 200 hydro poles have been broken. Uniformed officers are still patrolling the majority of the affected neighborhoods, according to Ottawa police.
Hydro Ottawa's Joseph Muglia told Newstalk 580 CFRA's "CFRA Live with Andrew Pinsent" Sunday morning, "It's a very involved renovation."
Also read: Poilievre is under fire for statements he made on Jordan Peterson's podcast
Muglia believes that crews would spend the entire day surveying the damage but that power restoration will take several days.
"It's just about balancing what we can turn back on vs. what we haven't analyzed yet," Muglia said of power restoration operations.
"Because of how it affected us, it will be a very complicated restoration," he says. "We'll probably be spending the majority of the day still performing damage assessment to know what we're dealing with."
Mayor Jim Watson urged residents to be patient until Hydro Ottawa restores electricity.
"They're working through the night and will have full crews out today and tonight. They estimate that it will take 2 to 3 days for everyone to regain electricity, "Watson explained.
"This was a huge storm that wreaked havoc on transmission lines."
At around 4 p.m., a severe storm with gusts of 120 km/h swept across the national capital region, leaving a trail of damaged residences, felled trees, and broken hydro poles and wires. Damaged property and fallen trees have been reported around the city, "especially in the Navan, Stittsville, Merivale, and Hunt Club neighborhoods," according to the city.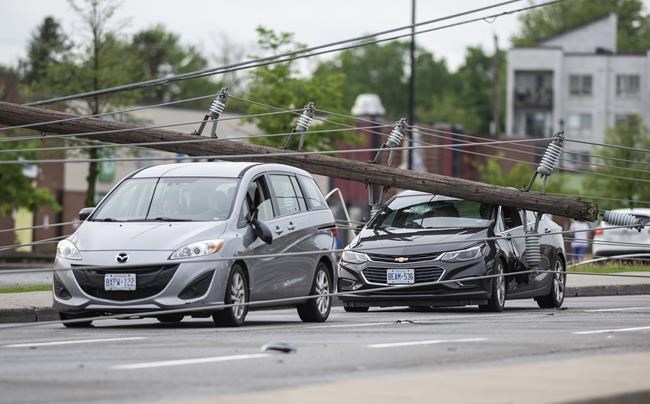 Following the storm, three people died in the Ottawa area. A 59-year-old man was killed after being crushed by a tree falling on a golf course on Golf Club Way in Ottawa's west end, according to police. The death inquiry is still ongoing.
While her boat capsized on the Ottawa River in Masson-Angers, a 51-year-old lady drowned. A 44-year-old man died in the Ottawa Valley after already being struck by a tree falling in the Township of Greater Madawaska.
According to Watson, Parks and forestry employees from the city of Ottawa have been deployed across the city to clear up the damage.
"We're doing everything we can to restore people's power."
Hydro One reports that over 108,000 customers are without power from Belleville to eastern Ontario and the Ottawa Valley.
"Hundreds of broken poles, multiple toppled transmission towers, fallen trees, broken limbs, and many downed power lines," Hydro One stated in a statement. The utility expects restoring power to all customers across Ontario will take "several days."
In the Clarence-Rockland area, 12,000 people are without power, while in Orleans and Cumberland, 5,300 customers are without electricity.
Source: CTV News